Small Axial Piston Pump
0.4 – 6.3cm3 high pressure pump line-up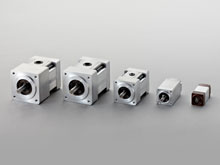 Adopting Takako's original design for all series enabled high efficiency from low to high rotation speed.

0.4cc Small Axial Piston Pump

Bi-directional rotation with good responsiveness, ideal for being drived by servo motors.
Lightweight thanks to aluminum case.
The world's smallest class Small Axial Piston Pump
Basic Specifications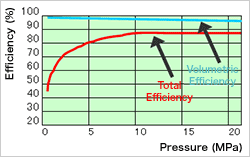 Displacement
(cm³)
Max. Working Pressure
(MPa)
Max. Input Rotation
(min-1)
Weight
(kg)
Size
Corner x Length(mm)
0.4
14
2000
0.27
30×77
0.8
21
3000
0.43
40×97
1.6
21
3000
0.96
60×112
3.15
21
3000
1.94
80×137
6.3
21
3000
2.26
80×140
Sample Construction
Features a hybrid drive system that combines the benefits of hydraulics with the controllability of an AC servo motor and inverter motor to satisfy a broad range of specifications with a small volume pump. Users will find energy savings in fields such as industrial machinery and machine tools.
Small Piston Pump Applications
New products born of Takako's technological strengths
Sample Applications
Contamination measuring equipment
Pump for valve switching controls
Mold switching equipment for formation machines
Power regeneration motors
Transportation equipment in factories
FA production lines: Hydraulic clamps, press fitting machines
Dressing grinders (motors)
Crimping/fitting presses
Example of Valve Pump Unit Use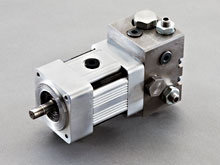 Press Structural Diagram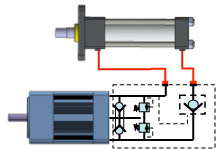 World Smallest Small Axial Piston Pump Unit
Possible to mount on small space where it was not possible in the past.
Energy saving as you can use hydraulic only at necessary place and time.
Input shaft could be driven in bi rotational wise with high responsiveness.
Wide application is possible as EHA: Electric Hydraulic Actuator combined with motor and actuator.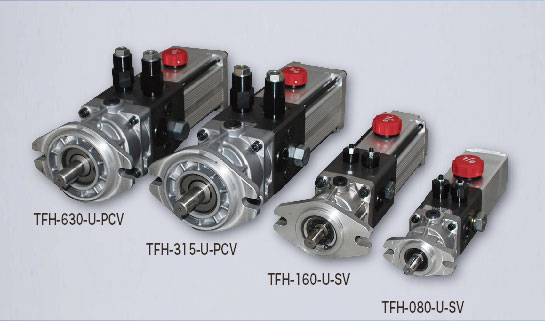 Actual Application
Injection Molding Machine
Accurate control of thrust force by Hydraulics, which was not possible by electric ball screw.
The whole system becomes simpler, lower cost, and energy saving.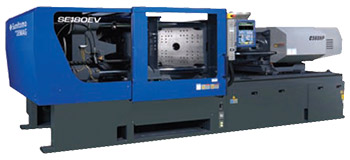 Sumitomo(SHI)DEMAG SE-EV series
Robotics
High power, high precision robot is possible with the combination of advantage of hydraulic and electric.
Possible to set in a small space thank to the compact size.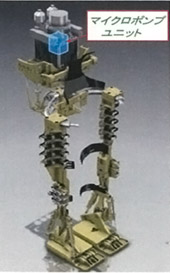 Exsoskeleton by BIA
High power, compact pump is necessary to carry the total weight of the exsoskeleton and a human.
Ankle foot orthosis by CCEFP
Total weight 3.3kg. The weight of the device on ankle part where the exercise load is big is reduced to 0.97kg by wearing the power supply on the waist. 65Nm torque is generated by Takako's standard 0.4cc pump.
Sample Animation

Demonstration machine using Small Axial Piston Pump.
Using Small axial piston pump as both pump and motor and exercising energy regeneration.
Demonstration machine using Small Axial Piston Pump.
The Actuator moves as you wish by controling rotation speed and rotation direction. Energy saving as the hydraulic circuit could be simpler.

Demonstration machine using Small Axial Piston Pump.
Hybrid of hydraulic and mechanical system. High performance of power and speed could be realized.
Demonstration machine using Small Axial Piston Pump.
Hydraulic power is available only when you need it, where you want to use it with less space.
Future Possibilities
Nursing care equipment
Medical equipment
Rescue robots
Service robots
Industrial vehicles